It is important that treatment is started very soon after birth. The results are significantly better if treatment is started within 2 weeks after birth. If treatment is started more than 3 weeks after birth, the results are less favourable.
Check your child's ears immediately after birth
It is customary to count the newborn's fingers and toes. A physical examination is carried out by the midwife or physician, and a hearing test takes place after a few days. But what is frequently overlooked? The ears!
Did you know that 33% of children are born with some degree of ear deformity? There are several reasons why these deformities are overlooked.
Many people think that the ears will take on a uniform shape automatically. Others think it is something that has to be remedied through plastic surgery later on. But usually, the deformity is simply not noticed because babies are cute and their ears are only small, and because not everyone is familiar with the anatomy of a "normal ear".
Which ear deformities can be treated with EarWell?
In principle, all ear deformities can be treated with EarWell. Protruding ears is the most common issue, but there are 7 more deformities that can be treated with EarWell.
Statistics
Let's take a look at the figures on the number of ear deformities. Imagine 100 children are born – 33 of these babies will have an ear deformity. Of these 33 children, a third will correct automatically within the first week. This leaves 22 children with a permanent deformity that might even deteriorate.
Take a close look at the photos on this website to familiarise yourself with the different ear deformities. It is important to realise that the ear triples in size as the child grows. By the time the child is 6 years old, the ear has reached 93% of its adult size. In other words, ears grow disproportionately in relation to the rest of the body. That is why ear measurements using a projectometer are important to predict how the ear will look when the child is ready to start primary school.
Untreated ear deformities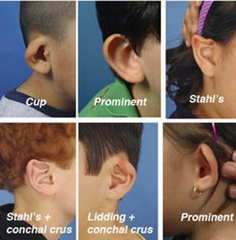 The photos above show how an untreated ear deformity might develop. EarWell can prevent these deformities!
Parent testimonials
Many parents have already had their children's ears treated with EarWell. Read their experiences here and find out what they say: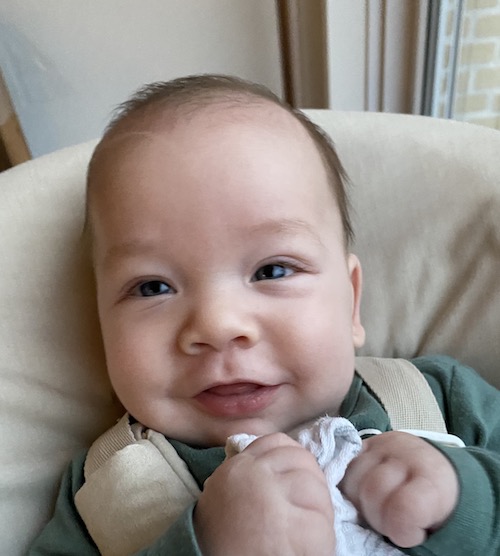 Our son's ears were unequal. The helical rim of his right ear had a small deformity and the earlobes of both ears were very pronounced. We had his ears treated because we thought it was worth a try. He would not notice the ear correction at this young age and in later life, he could only benefit from beautiful ears. We are delighted with the result! Read about our experience here.
We visited Dr. Feijen at the Mooi clinic 6 months ago, when our son was 10 days old. He was born with protruding ears. Just before I gave birth, I coincidentally heard about a new technique where (EarWell) ear moulds are fitted to correct/prevent protruding ears in babies so that surgery in later life is unnecessary. Our son was sleeping when the ear moulds were fitted and he didn't notice at all. Because we started treatment early, he only needed to wear the moulds for 2 weeks. During these 2 weeks, Dr. Feijen was available at any time to answer our questions. The moulds were removed after 2 weeks and we could already see the results. This was 6 months ago and we are so glad we had our son treated straight away; his ears look completely normal! We are very happy with the result.
The treatment with the EarWell system went very well and was easier than we expected, we are so glad that we did this for our son. The results were already clearly visible after 2 weeks, and when the treatment was completed after 4 weeks, his ears looked normal.
At first we were not sure if we should start with EarWell, the moulds looked a little strange, but in retrospect we are very happy with the result. Our daughter didn't notice a thing and slept straight through having the EarWell fitted and replaced.
I would recommend this treatment to all parents of children with ear deformities. It did not affect our son Mats at all and his ears are now fully corrected. With neither surgery nor scars.
One of our child's ears had several deformities. We heard about EarWell and Dr. Feijen and we are so happy with the result. Our child can now grow up with beautifully normal ears. Dr. Feijen and the ladies at the MOOI clinic in the Netherlands were very helpful and always available to answer any of our questions.
I had surgery to pin my ears back later on in life. As a child, I suffered bullying and confidence issues because my ears stuck out. I wanted to make sure my daughter didn't have to go through the same thing! About a week after her birth, Mila's ears started to curl away from the side of her head, and luckily I came across EarWell online. We made the decision rather quickly to have Mila's ears treated. Much better to have her ears taped down for a few weeks than to grow up with ears that stick out and end up having surgery. We are super happy with the result!
Does your baby have misshapen ears?
It is important you start treatment quickly. Call us soon.