Our EarWell experience
The helical rim of our son's right ear has a slight deformity. His earlobes are very pronounced and he is very likely to develop protruding ears. We (mum and dad) also have protruding ears. We chose to have our son's ears corrected with the use of EarWell. This is my experience and review as a mother.
The first day of the ear correction (without surgery)
There goes his beautiful hair. There go his beautiful little sticky-out ears, all wrapped up in the EarWell ear moulds. Am I doing the right thing? Is he not in pain? I try to think of the outcome and how my child will reap the benefits of this early ear correction for the rest of his life. These thoughts take away some of the pity I feel every time I look at him.
Our day is out of kilter. Our appointment for fitting the EarWell got in the way of our feeding schedule, and my son seems a little less settled when feeding throughout the rest of the day.
My son didn't feel a thing when the moulds were fitted. He just slept right through it. At night, my 10-day-old son sleeps better than the previous days. He sleeps on his side, so his head actually rests on the EarWell mould. Luckily, it doesn't seem to bother him! So we survived our first day.
The rest of the first week.
We are getting used to the moulds and they are barely noticeable under a little hat. Our son seems totally unfazed by them. He sleeps as he usually does and he can rest his head on the moulds without any bother.
Unfortunately, we cannot bathe our son. Instead, we give him a little wash in the tummy tub. We use a flannel and water to wash his hair and to prevent the EarWells from getting wet.
The adhesive bandage around the moulds is starting to get a bit grubby and loose. Luckily, the actual moulds are still firmly in place. I am not going to replace the bandage because we are going back to the MOOI clinic in two days to see the initial result.
Results after 2 weeks
The EarWell ear moulds are finally coming off! This is a bit more painful for my son, but as soon as the moulds have been removed, he immediately stops crying. The result is very good already, and I can see an improvement. Michelle, our plastic surgeon, confirms that the ears will have to be taped up for another two weeks with part of the system. That's better than expected!
Results after 4 weeks
We are going back to the MOOI clinic again to take another look at the result. The adhesive bandage and retractor can be removed. The result is amazing and the treatment is complete. His ears have a great shape and are close to his head.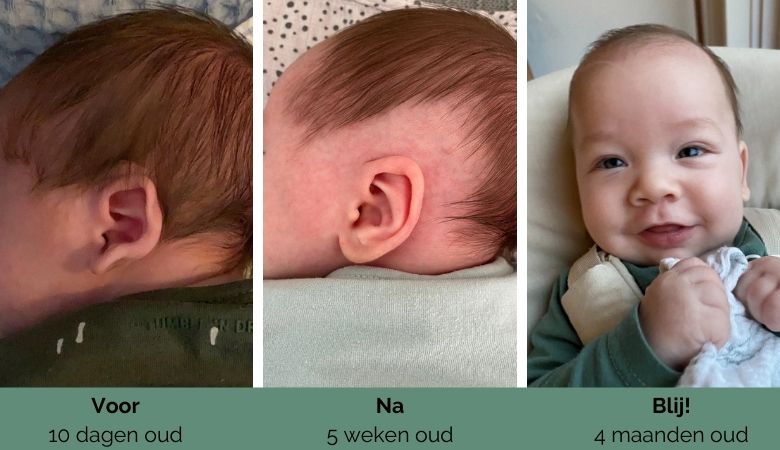 Our son is now almost 4 months old and he has beautiful ears. They have moved away from his head a little, making it look very natural. We are still waiting for his hair to grow back though.
If you want to ask me any questions, just leave a message below!
Love from
B's mum